The Heartbleed Bug is a serious vulnerability for websites around the world. Many enterprise cloud and SaaS apps were also impacted. While most app vendors have remediated their systems, some remain vulnerable.
Netskope researchers have been scanning more than 4,500 such apps throughout the past week and maintaining a daily countdown to remediation.
One observation we have made in the course of this analysis is the connection between remediation status and enterprise-readiness in the Netskope Cloud Confidence Index (CCI). The CCI is an index and measure of cloud apps' enterprise-readiness based on 34 objective criteria in the areas of security, auditability, and business continuity adapted from the Cloud Security Alliance. We assign each app a 0-100 score, and then group scored apps into levels: "Excellent," "High," "Medium," "Low," and "Poor."
The Tie Between Quality and Remediation
After six days of reporting on the remediation status of the apps in the CCI, our observation is that high-scoring apps remediate their systems to a greater degree than low-scoring ones. On day one of our analysis (April 10), all of the affected apps that are rated "Excellent" had already been remediated, and only a handful of "Highs" were left to go. At that time, the lower you looked on the enterprise-readiness scale, the greater the portion of apps were vulnerable. Over the six days, apps of all enterprise-readiness levels remediated their systems, but at the end of six days, nearly all of the enterprise-ready apps have been remediated, while the non-enterprise-ready apps have not remediated to the same degree.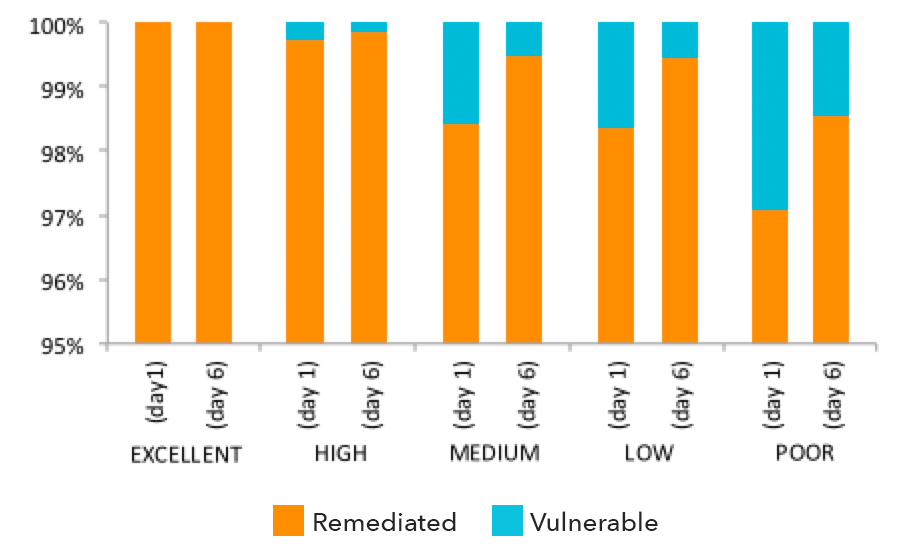 Looking at it another way, at day six, more than half of the enterprise cloud apps that remediated in the first six days were considered enterprise-ready (rated "High" or "Excellent" in the CCI). In contrast, 88 percent of the remaining vulnerable apps are not enterprise-ready.
Why Does This Matter?
It's a bit of a no-brainer that higher-quality apps should remediate their systems more quickly than lower-quality ones. So why are we pointing this out? Here's why: If organizations knew all of the apps they had running in their environments, this wouldn't be a big deal. They could curtail usage, educate their users, and approach the vendors in question.
However, our data tell us that organizations have between 400-500 enterprise cloud apps running, only about 10 percent of which they know about. Anecdotally, the ones they know about are typically of higher quality, such as Box, Salesforce, and Okta, which are sanctioned by IT. So if vulnerable apps tend to be low on the enterprise-readiness scale, and IT doesn't know which low-quality apps are running, then the organization can't take measures to remediate Heartbleed, much less protect against future vulnerabilities. And that's a problem.
What Should You Do?
To protect yourself from Heartbleed and future vulnerabilities, you should:
Discover all of the cloud apps running in your environment.
Measure the apps' enterprise-readiness against an objective yardstick (CSA's Cloud Controls Matrix is a great starting point, and there are also vendors, including Netskope, who perform this service free of charge).
Compare the discovered apps against the list of remaining vulnerable apps and take steps to curtail usage or introduce countermeasures.
Beyond the apps affected by Heartbleed, review all of the low-scoring apps and determine whether they're business-critical.
For non-critical apps, help users migrate to more appropriate apps.
For critical apps, work with your app vendor to introduce enterprise capabilities and develop a plan to remediate vulnerabilities.
Adopt a process to continuously discover and gain visibility into the cloud apps in your environment, including the unsanctioned ones, as they change frequently.